Dragon Boat racing is a long standing Chinese Tradition that has developed into a fast and furious water sport around the world. In Australia, it is the fastest growing water sport with 22 people required to propel a boat from start to finish.
Its origins stems back 2000 years to the rivers of Southern China as a fertility rite to ensure plentiful crops. The race was traditionally held on the fifth day of the fifth lunar month of the Chinese calendar to encourage rains for prosperity. The dragon, the symbol of water was their object of worship. It is said to rule the waterways and dominate rain making. From this tradition emerged another legend integrating the sport of Dragon Boating with Chinese history.
This is the story of Qu Yuan.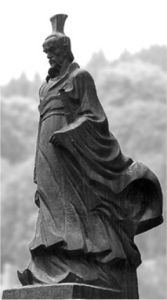 Qu Yuan was a great patriot and poet who resided in a Kingdom called Chu during the fourth century BC. This was a time when corruption and treachery was dominant. This period is often referred to as the Warring States Period. Qu Yuan, a loyal counsellor is well remembered for his strength in championing political reform under a Kingdom which had fallen prey to corrupt ministers. He was banished from the Kingdom as a result.
Left to ponder the future of his Kingdom, Qu Yuan proceeded to compose some of Chinas most revered poetry expressing his love and concern for the world he knew. As the Kingdom fell into the hands of the corrupt rival Kingdom, Qu Yuan in despair threw himself into the Mi Lo River holding a great rock in a display of heartfelt sorrow.
Upon seeing this, the people who admired and respected Qu Yuan's strength took to the river with their fishing boats in an attempt to save him. They beat their drums and splashed their oars to keep fish and water dragons away from Qu Yuan's body. To honour his soul and to ensure it didn't go hungry they scattered rice into the water.
Today, Dragon Boat regattas around the world still honour the historical legend surrounding this highly competitive sport with a ceremony entitled 'Awakening the Dragon'. This ceremony involves the dotting of the eyes on the dragon head to awaken it from its slumber.
What Is Dragon Boat Racing?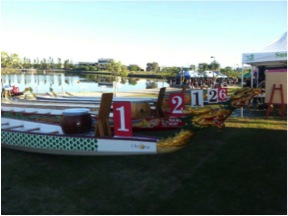 Dragon boating is actually one of the oldest sports in the world today, originating over 2000 years ago in the Southern provinces of China. The modern sport of Dragon Boating consists of a long canoe (approx 12 metres) with twenty paddlers who sit ten long and two abreast, one drummer who sits at the front and keeps time, and a sweep, who stands at the back and steers. For the boat to move smoothly through the water, all team members need to be paddling in unison and take their timing from the front two paddlers who are called 'strokes', as they set the stroke rate. International standard race distances are 2000m, 1000m 500m and 200m sprints. For racing events, dragon boats are always rigged with decorative Chinese dragon heads and tails and are required to carry a large drum aboard.
The sport has now spread around the world from Canada and America, to countries all over Europe, South Africa, New Zealand and here in Australia. In Australia, dragon boating began over 25 years ago when the Western Australian Surf Life Saving Association was invited to the Penang Festival. Since then State Dragon Boat Associations and a number of clubs have been formed around Australia. In Queensland 30 clubs represent more than 2000 members. Regular regattas are held around the south east with crews of mixed, women's and men's teams competing in junior, premier, master, grand master and great grand master categories. Races are held over distances ranging from 200m to 2000m with four to six boats in each race. The end of each season culminates in the Queensland State Titles where clubs from around Queensland compete. Clubs can also choose to compete at the Australian National Titles held annually in a different state each year. Corporate events are also held giving small and large organisations the chance to bond and work as a team while experiencing all the spectacle and colour of a dragon boat regatta.
When competing at regattas, boats start from a standing position, the combination of strength and near perfect timing is necessary to get your boat across the finish line first. Endurance is also an important element of dragon boat racing and this goes hand in hand with the crew pacing themselves so that they don't fade half way in a race and ensures they have enough reserves to power across the finish line as many races are fought out in the last few meters and placings often differ by split seconds. The sport of dragon boating is truly one of the most exciting team sports that anyone can participate in. Dragon Boating is characteristically a social sport, and while it has the added benefits of working a whole range of muscles and develops both strength and endurance.